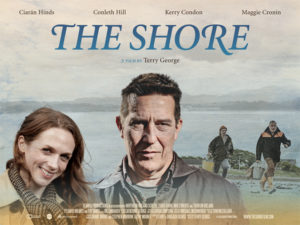 An Irish Film Night with director, Terry George, will be held on 3 November at 6PM at the Lenox Hotel in Boston. The evening will include a screening of George's award winning movie, THE SHORE followed by Q/A session. Space is limited for this complimentary event. Use the EVENTBRITE link to obtain tickets:
https://an-evening-with-terry-george.eventbrite.com
This exclusive and intimate complimentary event is presented by the Ulster University New England Alumni Association, Queen's University New England Alumni and Boston College Irish Institute, and sponsored by Invest Northern Ireland.
Agenda 
6:00-7:00pm – Welcome Reception
7:00- 7:30pm – Screening of Oscar Winning Short Film, The Shore
7:30- 8:30 – Q&A with Director, Terry George
About the Film
The Shore follows two boyhood best friends reuniting after 25-years of division. One of them was shot during the Northern Irish conflict and the ensuing misunderstanding drove them apart. 25 years later, returning from America, one tracks down his friend with an overwhelming sense of remorse.
Terry George – Biography
Northern Ireland film director and screenwriter, Terry George's film craft has been lauded by peers and critics in the highest echelons of the industry. His screenwriting work on IN THE NAME OF THE FATHER (1993) and HOTEL RWANDA (2004) secured OSCAR nominations as well as numerous other international accolades. In 2012 he won an OSCAR for his short, THE SHORE (2011), which he wrote and directed. His most recent release, THE PROMISE (2016) is expected to receive comparable praise.
Have questions about this event? Contact Ulster University New England Alumni Association.