Sponsorship
Businesses and organizations in Greater Boston and beyond can participate in the Gold Medal Dinner and Award Ceremony through the Eire Society of Boston Sponsorship program. Join the effort today!
Your sponsorship at the Gold, White or Green level directly supports the Eire Society's signature fundraising event, which annually honors a person or persons who exemplify the best of Irish culture and ideals.
The Eire Society of Boston is pleased to announce the Gold Medal award recipient for 2017, novelist, short story writer, playwright, journalist and literary critic, Colm Tòibìn.
In 2015, Tòibìn's work gained popular, world-wide recognition when his 2009 novel, Brooklyn was made into an Academy Award winning feature film, portraying the fortunes of a young Irish woman who leaves her home in rural Ireland for a new life in 1950's New York. The novel, a haunting tale of love, loss and familial duty, won the 2009 United Kingdom Costa Award and was shortlisted for the 2011 International IMPAC Dublin Literary Award.
For more information on the 2017 Gold Medal Dinner and Award Ceremony, click here.
Sponsor businesses and organizations receive full recognition in printed materials associated with the Gold Medal Dinner and on the ESB website (a sponsor can also remain anonymous if they wish).
For more information on the Gold Medal Dinner sponsorship program, contact Cate McGrail, Event Chair, at events@eiresociety.org.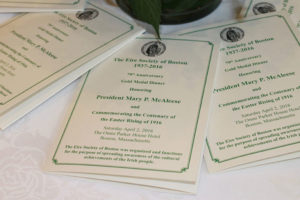 Sponsor the 2017 Gold Medal Dinner honoring novelist, Colm Tòibìn, at one of the following levels:
Gold Sponsor - $2500 (includes 5 dinner tickets)
White Sponsor - $1000 (includes 2 dinner tickets)
Green Sponsor - $500 (includes 1 dinner ticket)
To download a 2017 Eire Society of Boston Gold Medal Dinner Sponsorship Agreement, click here!
The Eire Society of Boston is a 501(c)(3) non-profit organization. Sponsorships are tax deductible to the extent permitted by law (the cost of complimentary dinners are not tax deductible). Your consideration and support is greatly appreciated.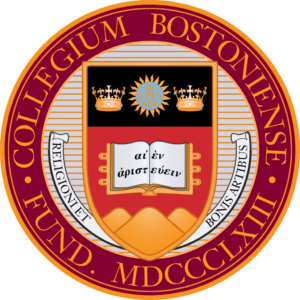 Global Leadership Institute at Boston College
The Global Leadership Institute at Boston College offers dynamic programming for professionals looking to expand their areas of expertise and meet other like-minded individuals. Through custom designed and open enrollment programming, the Global Leadership Institute empowers participants to reflect on their careers, connect with influential leaders in the field, enhance professional skills and learn cutting-edge techniques.

Bank of Canton
The more you trust your bank, the less you have to worry about. That's why Bank of Canton has been taking care of people's finances and creating lifelong relationships for over 175 years.
We treat our customers like they are members of our family. Our dedicated staff members take the time to listen to your concerns and find the solution that's right for you. That's just the way we've always done it.  What else would you expect from family?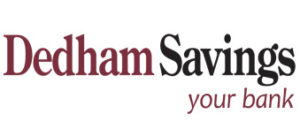 Dedham Institution for Savings
Founded in 1831, Dedham Institution for Savings has served the Norfolk County market for over 180 years. We have grown to over a billion dollars in assets, and are effectively positioned for the future. Further, as a well-capitalized, mutually owned institution, all of our financial and strategic decisions can be made without the pressures provided by shareholders. All of these decisions can be made with the best interests of our customers, staff and communities.

Beals and Thomas
Beals and Thomas is a multidisciplinary consulting firm that provides civil engineering, planning, landscape architecture, environmental, permitting, and land surveying services to support development, conservation and infrastructure projects throughout Massachusetts and surrounding states.

The Briar Group
Since 1989, The Briar Group has been bringing innovative, quality dining experiences to Boston. When you step into one of our establishments, you can expect to be greeted by a friendly, professional wait staff that believes your satisfaction is their vocation.
We're committed to using the highest quality ingredients and providing comfortable, accessible dinning and event experiences that exceed our customer's expectations. Dine with us and see what the gold standard in customer service looks like.

Insight Realty Group
If you are a Buyer or Seller looking for the area's top real estate team, we would like to be your choice for your next real estate transaction. With over 50 years of combined experience in the Greater Boston real estate market, we know some of our innovative approaches and proprietary strategies can help you either sell your home faster and for more money, or find you the right home at the best possible price.
If you are okay with the traditional, the ordinary, what 99% of the agents do, i.e. stick a sign in your front yard, put it in MLS, and pray someone else sells your home for them, then don't consider our team. We provide proven marketing plans to maximize all channels of marketing to leverage the tools of the top real estate companies in the world to get you results and get you sold. Our team can put that same strength and market knowledge to work when you are looking for that perfect new home.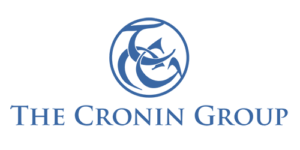 The Cronin Group, LLC
The Cronin Group, LLC is a Boston-based company with its headquarters at Liberty Wharf in Boston's thriving Seaport District. Led by Principal Jon Cronin, and with over 2000 employees, the group is one of the most prominent restaurant developers in Boston and has been developing residential and commercial real estate for over 20 years.
Cornell & Gollub
Our Firm concentrates in the area of civil trial and appellate practice in state and federal courts, focusing in the defense of cases involving Commercial Disputes, Product Liability, Medical Malpractice, Legal Malpractice, Consumer Protection, Insurance, General Liability, Mass Tort and Class Actions.

Redfin – Boston
Redfin is a customer-first real estate brokerage that represents people buying and selling homes. Founded and run by technologists, Redfin has a team of experienced, full-service real estate agents who are advocates, not salespeople, earning customer-satisfaction bonuses, not commissions. 

Gerry Kenny, General Contractor
SafeHome Custom Construction Company, established in 1982 by Gerry Kenny, is a high quality specialty construction company. We provide superior workmanship in all we do for residential, commercial, and industrial projects of all sizes.
We specialize in historic restoration and renovation, including 15 homes in the Dedham/Natick area, and custom designed kitchens and bathrooms.
Fully licensed. Full liability and workman's comp insurance.

Milton Monument Company
Founded in 1971 Milton Monument Company has been located at the corner of Reed and North Main streets in Randolph since 1972.
Current owner Mary Ellen Mulligan purchased Milton Monument in 1984 and continues to oversee its daily operations. On any given day, Milton Monument's customers will experience Mary Ellen's compassionate, courteous approach.
Milton Monument offers a variety of personal and public memorials, including cemetery monuments, granite and bronze markers, and civic monuments. The company also offers services such as monument lettering, cleaning, and moving.
Located on the South Shore, Milton Monument serves all faiths throughout Greater Boston. Mary Ellen's longstanding relationships with area cemeteries ensure a smooth and worry-free monument installation.
Mary Ellen, a former elementary school teacher, lives with her husband, Seamus, in Randolph.